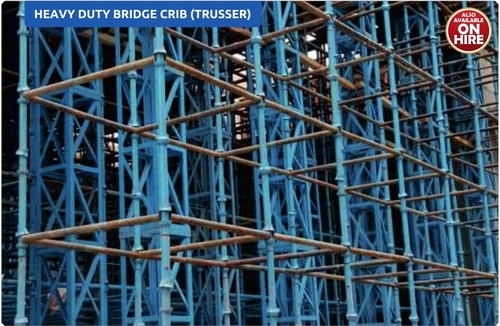 Heavy Duty Bridge Crib System
Price And Quantity
Product Specifications
Scaffolding Platform

Construction
Product Description
Heavy Duty Bridge Crib System is widely used as staging for heavy floors at higher altitudes, and also serves as scaffolds on certain occasions. Each heavy-duty tower has an unmatched capacity of 25 MT and is ideal for handling heavy loads at unusual heights. It also serves as Table Formwork in multistoried constructions and can be handled as single units up to a height of 5.00 meter.

Heavy Duty Bridge Crib is mainly used for staging purposes in the construction of flyovers, Buildings and Bridge-Tunnel formwork, Small & Big under Pass, Small & Big Culvert.
Angles used 50 x 50 x 5 mm

Available Size

Height : 500mm, 1000mm, 1500mm & 2000 mm

Base : 450 x 450 mm.
Additional supports of MS Angles can be provided, on the standing angles, as per the requirement of the customer.